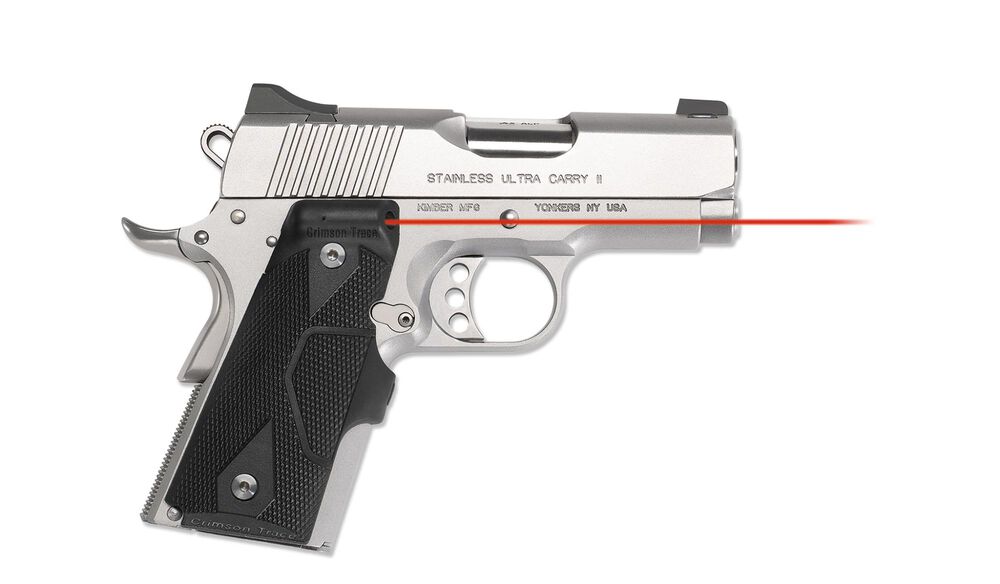 LG-404 KMI Front Activation Lasergrips® Slate Gray with Kimber® Logo for 1911 Compact [Discontinued]
Details
https://www.crimsontrace.com/products/laser-sights/lasergrips/lg-404-kmi-front-activation-lasergrips-slate-gray-with-kimber-logo-for-1911-compact-%5Bdiscontinued%5D/01-1570.html
SKU: 01-1570
Promotions
The flagship LG-404 is our most popular 1911 laser sight model for Officer's, Compact and Defender variants. Featuring rugged polymer side panels and a rubber-overmold activation button, these are the recommended Lasergrips® for most 1911 shooters. Standard to Crimson Trace® Lasergrips, the LG-404 features Instinctive Activation™. This means that the laser sight automatically springs to life when the weapon is held in a natural firing grip.
This product has a slate gray finish with a Kimber® logo on both sides of activation pad area.
This product is not compatible with ambidextrous safety levers. We stock shortened ambi-safeties from Wilson Combat® in BLACK and STAINLESS. Gunsmith installation is required.
Warranty:
Three Year Limited Warranty
Specs
Activation Location

Front Activation

Activation Type

Instinctive Activation

Beam Intensity

5mW peak, 633nm, Class 3R red laser

Battery Life

Over Four Hours
Fit Notes
1911 Compact:
Fits Colt (Officer's and Defender), Kimber (compact, ultra-carry and ultra-elite), Para-Ordnance (compact, single-stack), Springfield Armory (compact and ultra-compact) Wilson Combat and most other 1911's with grip screws measuring 2-11/16" apart.